Meet my first granny squares :D
I have wanted to crochet for ages so one morning last week I sat down with Pip's excellent 'Granny Squares 101' YouTube videos (see
here
), and an hour later I could crochet!!! Well, almost. It took a bit more practice, but it turns out I should have believed everyone who said crochet was quick and easy. I still have a lot to learn but I thought I would share some of the inspiring projects that are making this a must-do for me (and a New Years resolution that I have actually started, hooray!)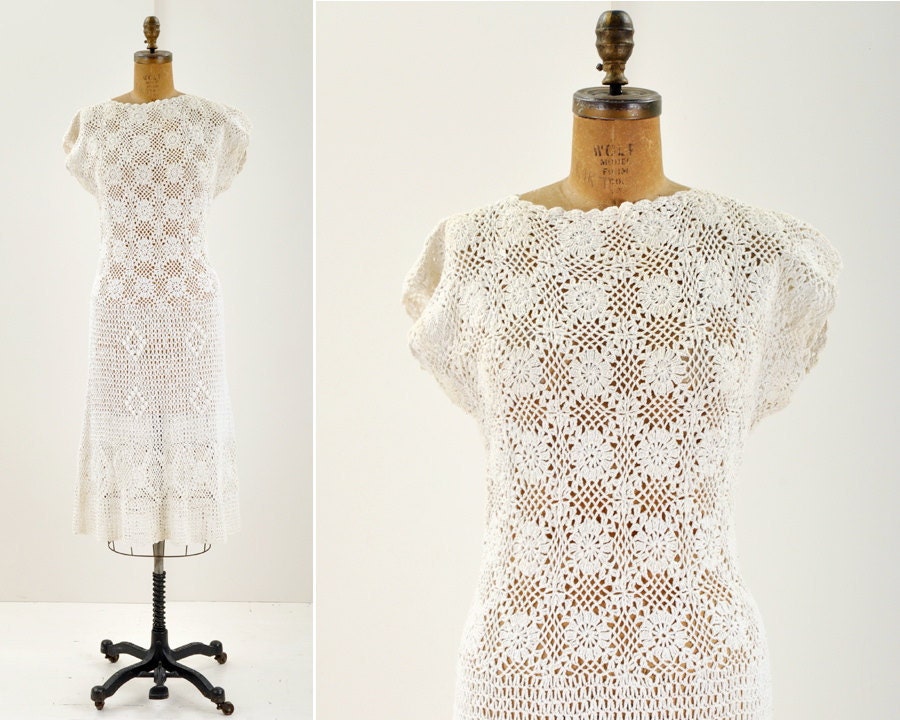 Vintage dress on Etsy
Maybe it is because I was born in the 70s, but I have always loved how crochet looks, even in clothes! When I started reading crafty blogs last year, I realised that you can do all sorts of things like gorgeous blankets or the cutest soft toys.
Paisley Jade
is one of the most-read NZ crafty blogs and always has cool new projects... I love her cupcakes, and can't remember seeing mustached ones anywhere else! Small knitted or crocheted toys like this are called
amigurumi
, and this is what I would REALLY like to make. Kristy also has a 'How to Crochet' post
here
.
My Strawberry Shortcake doll collection is coming along nicely (see
here
) so I finally invested in these little hats, sold by
The Enchanted Pumpkin on Etsy
. Can't think of anything cuter. Except maybe...
... this turtle mobile by
FaerySarah
(formerly bobbyrobin). Teeny tiny and a perfect colour combination, I think her baby will love it (turtle was one of Mr Toddler's first words).
Speaking of Mr Toddler, his favourite thing in the whole world is his 'big blanket', made by my Nana. From when he was very little he would curl his fingers through the holes. Luckily he has accepted some mini-versions as travel-sized substitutes (a pink one in particular). More pics of his room
here
.
I mentioned to my mum one day that I had been looking at crocheted beanie/beret type hats on Etsy, and overnight she whipped me up these, without a pattern! Hopefully ninja crochet skills are genetic. Custom hats are good news for me as I have a big head...
I have saved the monster for last...
this AMAZING dinosaur
by Annette, who designs my favourite stationery at
Nut and Bee
. I don't think I could ever be that patient but I am definitely inspired!